Publish Time:December 17, 2019
The autumn wind is cool, and the osmanthus fragrance is fragrant. On the afternoon of September 24th, Pengfei Group welcomed a distinguished guest, Mr. Davra Tezoda, Ambassador of Tajikistan to China. Accompanied by the leadership of the Propaganda Department of Hai'an City, Mr. Ambassador visited the Pengfei Group.
Mr. Ambassador's visit was warmly welcomed by Peng Fei's president Wang Jia'an, and both sides visited and exchanged.They have a total review of Mr. Wang Jiaan's invitation to visit the 3,300 t/d cement production line in Tajikistan in the middle of this month and conjunction with the President of the Tasmania, Momari Rahmon.Later, Mr. Ambassador asked about the development history of Pengfei Company, the industries involved in the company's products, and the use of advanced cement equipment for environmental protection, energy conservation and consumption reduction.After the visit, Mr. Ambassador firstly thanked Peng Fei for his warm reception and highly praised Pengfei's overall strength and product performance. He hoped to furtherly deepen friendship in the future cooperation and exchange and lay a solid foundation for the next step of cooperation.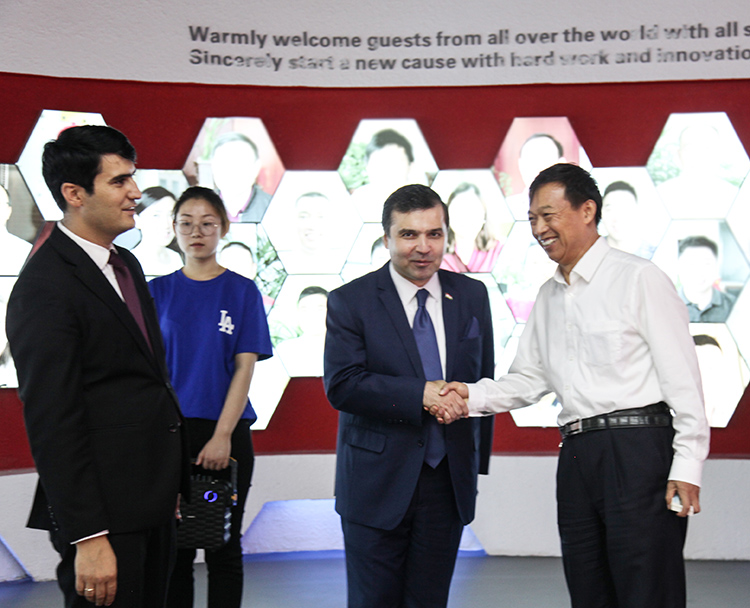 President Wang Jiaan thanked the Ambassador for his visit to Pengfei. He asked the Ambassador to convey his regards to President Momari Rahmon and build a bridge of cooperation, a bridge of friendship and a bridge of mutual benefit for the common development of the future.